R O S E H I L L D A I L Y O F F E R I N G S
Quality, scratch made using local ingredients, just for you.
Sourdough
ORIGINAL ORGANIC ANCIENT GRAIN LOAF – $9.25
Organic Khorasan & organic wheat flour, water, salt, natural yeast
ROTATING SPECIALTY FLAVOR- $12.25
SINGLE SLICE SOURDOUGH TOAST – $1.75
Topped w/ honey butter, traditional butter, &/ or cinnamon sugar
* SOURDOUGH SANDWICH LOAF – $8.75
*DINNER ROLLS, Half Dozen – $6.75
(Also available in VEGAN)
*AVAILABLE SATURDAY ONLY
---
Pastry
BRIOCHE ROLL – $4.25
Rich buttery dough filled with varying delectable flavors
GRAND CREAM PUFF – $5.50
---
Cookie
ROSE HILL MILK CHOCOLATE CHIP– $2.75
PEANUT BUTTER, CHOCOLATE WHITE CHIP, SNICKERDOODLE – $2.75
---
Galette & Mini Pie
SEASONAL FRESH FRUIT or FILLINGS– $6.00
Flaky, buttery crust sprinkled with MacTaggart'sTM vanilla sugar
---
Bread
BANANA CRUMB MINI LOAF – $4.75
Moist banana bread topped with cinnamon & sugar crumb
ROTATING SPECIALTY FLAVOR MUFFIN– $4.00
Scone
English Style
Various flavors available – $3.25/box of 4 $10.75
Scrumptious, tender, & moist lightly sweetened dough
A Rose Hill signature offering.
---
Dessert
ROSE HILL LEMON
CHEESECAKE BROWNIE TM- $3.25
ORIGINAL CHOCOLATE BROWNIE -$ 3.25
MINI CHOCOLATE CAKE – $6.50
---
Drink
DRIP COFFEE (Wufyre) $2.00 / $2.50
HOT CHOCOLATE +
FRESH WHIPPED CREAM (Reeds Dairy) – $3.00
CHOCOLATE MILK – $2.75
BOTTLED WATER – $1.00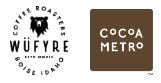 ---
Monthly Seasonal Menu
Please see our website

www.rosehillbakery.com

& our bakery to view our special offerings that vary monthly.
---
We are proud to use high quality, locally sourced ingredients when possible. A list of our local suppliers can be found on our website.
320 South Kimball Ave.
Caldwell, Idaho 83605 | (208) 410-6440